Chrono Control
You are trapped in a 10 second time loop. Can you use time shifting abilities and break out of it?

Chrono Control is a new take on combining the bullet hell genre and time manipulation abilities. You have 10 seconds to explore the dungeon, fight your way through enemies and reach the next checkpoint before being reset to where you were 10 seconds ago - all that while dodging countless bullets. Can you use the flow of time together with slow motion, pause and rewind to get an edge on your enemies?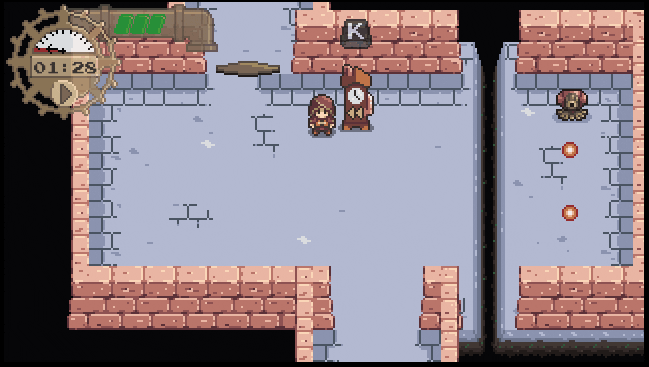 We are planning to update the game with new mechanics and additional content! To help us out, please leave feedback, so we know what you liked and where we can improve.
Initially this was a submission to the Bullet Hell Game Jam 2021. The theme was "10 seconds".

Update 1.0.1: We added a post-jam patch that addresses feedback players gave during the rating period of the game jam.
Controls


------------------------------------------


Alternative Controls:
Movement: arrow keys
Attack: F
Gamepad Controls:
Movement: Analog Stick
Attack: A or X
Comments
Log in with itch.io to leave a comment.
Superb! Really enjoyed this
Really cool game! Nice Idea and Top mechanics!
I really enjoyed this game! It is featured on my Week's Top 5!
Check my video!
Great game! intuitive and fast paced while making good use of time control mechanics :)
Really liked the art and music and the game play concept -unique and creative! awesome work! :D
Very nice art style and idea, maybe it was a bit too easy but other than that nice game!
Thank you! Some rooms felt too tight towards the end of the jam, so we toned them down. Maybe we overdid it a bit :)